http://www.africanews.com/2017/06/30/africa-dominates-us-list-of-worst-human-trafficking-offenders//
In its 2017 Trafficking in Persons Report released on Tuesday, the U.S. placed countries in three tiers with the worst being Tier 3 countries whose "governments do not fully meet the [Trafficking Victims Protection Act's (TVPA)] minimum standards and are not making significant efforts to do so".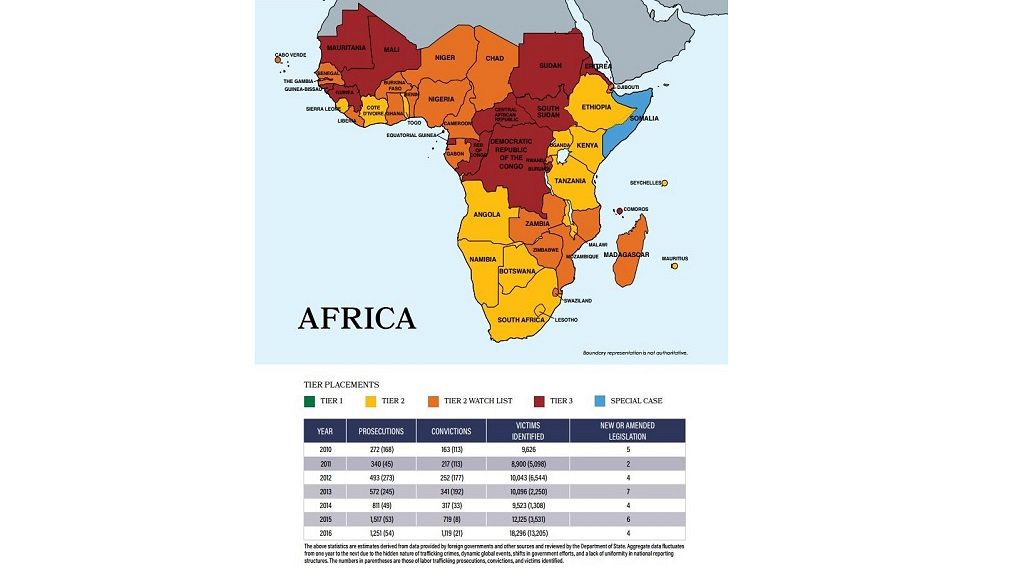 The worst African offenders include: Burundi, Central African Republic, Comoros, Democratic Republic of Congo, Congo, Equatorial Guinea, Eritrea, Guinea, Guinea-Bissau, Mali, Mauritania, South Sudan and Sudan.
They are grouped together with China, Iran, North Korea and Russia.
However, no African country was placed among the best (Tier 1) countries whose governments fully meet the Trafficking Victims Protection Act's (TVPA) minimum standards.
The bulk of African countries are divided within the Tier 2 and Tier 2 Watchlist countries.
The Tier 2 countries are reported to be making significant efforts to bring themselves into compliance with the standards but do not fully meet the minimum.
The African countries here include: Angola, Botswana, Ivory Coast, Egypt, Ethiopia, Kenya, Lesotho, Malawi, Mauritius, Morocco, Namibia, Seychelles, South Africa, Tanzania, Togo, Tunisia and Uganda.
The rest of Africa in Tier 2 Watchlist are also reported to be making significant efforts but fail to provide evidence of increasing efforts to combat severe forms of trafficking in persons from the previous year.
Somalia and Libya failed to make the Tiers but are placed under Special Case due to the ongoing conflicts.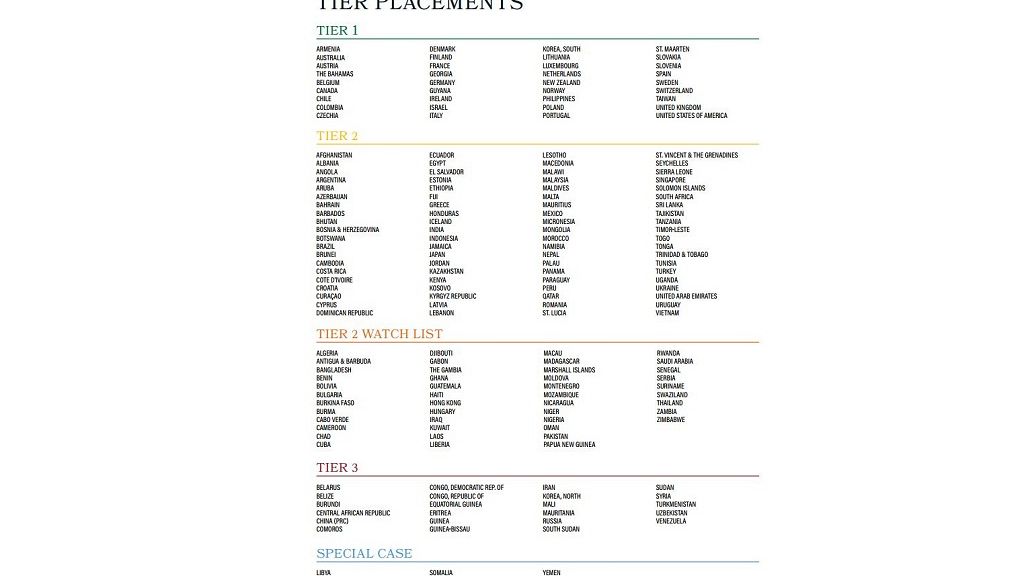 Two African women were among 8 individuals around the world were honoured by the U.S. Department of State for devoting their lives to the fight against human trafficking.
They are Vanaja Jasphine from Cameroon and Amina Oufroukhi from Morocco.
Jasphine is the coordinator of the Kumbo Diocesan Commission for Justice and Peace in the Northwest Region of Cameroon. She helped provide reintegration assistance to survivors, initiate a number of trafficking-related court proceedings, and offer legal assistance to victims, the report stated.
Oufroukhi, on the other hand, is a judge with the Moroccan Ministry of Justice's Directorate of Criminal Affairs and Pardons. She helped establish special protection units in Moroccan courts for women and children and later drafted new legal procedures to extend these protections to all trafficking victims, the report said.
"As we honour these heroes, we remember that everyone – everyone – has a role to play. Governments, NGOs, the private sector, survivors, and, most of all, the American people all must continue to work together to make human trafficking end in the 21st century," says U.S. Secretary of State Rex Tillerson.
The Trafficking Victims Protection Act defines severe forms of human trafficking as "sex trafficking in which a commercial sex act is induced by force, fraud, or coercion, or in which the person induced to perform such an act has not attained 18 years of age; or
"The recruitment, harboring, transportation, provision, or obtaining of a person for labor or services, through the use of force, fraud, or coercion for the purpose of subjection to involuntary servitude, peonage, debt bondage, or slavery."